Expressions of Faith
Exploring the Religious Structures of Broome County

Former Lisle Congregational Church, Lisle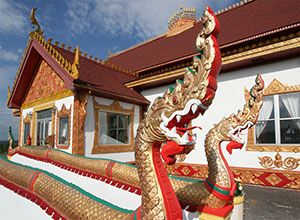 Wat Lao Samakhitham Buddhist Temple, Barker

St. James Roman Catholic Church, Johnson City

Islamic Organization of the Southern Tier, Johnson City

Broad Ave North Presbyterian Church, Binghamton

"The traveler finds himself suddenly inspired with new hope, on catching a view of the four-pronged top of the meeting house; assured of having discovered where civilization abounds and where piety asserts its empire." This account from 1825 describes a view of the Congregational Church in Lisle located near Whitney Point on the banks of the Tioughnioga River.

High in a dark tower above the main entrance a 954-pound bell once resonated throughout the valley in a call to the community. The church thrived for over a century, each Sunday filled to capacity with fellowship, communion and song.

Eventually membership began a gradual decline. The inevitable was delayed by merging with another congregation, but finally the church could no longer survive and in the 1970's it closed. Luckily the building was eventually purchased by an architect and converted into a residence. Today, virtually unchanged in its outside appearance, the building stands as a landmark and continues to inspire the traveler as it did nearly two centuries ago. Still in the tower, the bell is now silent except for a brief annual ringing on Memorial Day. As former Lisle resident Henry F. Squire once wrote of the church: "On Tioughnioga's wooded bank, I stand forever more, My old bell rings while the river sings, Now as in days of yore."

Built in the early 1820's when Lisle was the most populous town in Broome County, this picturesque country structure is now believed to be the oldest surviving church building in the county.

Today there are nearly 300 religious structures in Broome County. They are known by a variety of names: churches, mosques, temples, halls, and synagogues. They are houses of worship, reverence and sanctuary. Widely diverse in appearance, ideology and even language, they are identical in purpose. Each one, like the old meeting house in Lisle, is an Expression of Faith.

The buildings come in all shapes and sizes and represent a variety of architectural styles. Christ Episcopal Church, a Gothic stone structure in Binghamton was designed by Richard Upjohn, one of America's leading church architects. Strong influence of Frank Lloyd Wright is evident in St. Mary's Roman Catholic Church in Kirkwood. Gold domes top many of the county's ornate ethnic structures while a Buddhist temple in Barker is marked by elaborate architectural ornamentation. Valley Christian Reformed Church in Chenango is a striking mid-century-modern hyperbolic paraboloid, and dozens of small iconic 19th century churches dot the countryside.

Century-old wooden pews and magnificent pipe organs are found in many older churches, in others a dozen folding chairs leave just enough room for a podium and small electronic keyboard. There are no chairs in an unornamented Johnson City mosque, while a church across town seats 1700, providing a theatrical multimedia experience complete with light shows, electric guitars and drums.

Exquisite works of art including golden icons, statues and paintings are found in some, while others are conspicuously barren of ornamentation. Glass artwork includes stained-glass windows by Tiffany, intricate depictions of religious scenes, colorful abstract designs, and bold statements in neon light.

Some occupy storefronts in the center of town, while others lived former lives as an elementary school in Maine, a mansion in Binghamton, a dairy barn in North Fenton, and a tavern and pool hall in Johnson City.

While some have thrived, over recent years many religious organizations have experienced a significant decline in membership. Congregations have merged, facilities have consolidated, some have changed ownership and some have closed. Although a few abandoned structures have been successfully repurposed, some sit empty, dark and silent, and still others have been demolished.

"Six years ago we recognized that the county was undergoing significant changes both in the diversity and structure of its religious community," said David Dixon, President of the Broome County Historical Society. "In keeping with our mission to collect, preserve and interpret the history of Broome County, we launched a project to document through photographs every religious structure in the county."

The multi-year project includes gathering basic historical data and photographing each structure, inside and out, in an attempt to capture the unique character of the facility. As an ongoing project, "this collection will serve as a core for further research," said Dixon.

Later this year the first of a series of publications will be released by the Broome County Historical Society. Expressions of Faith – Exploring the Religious Structures of Broome County, is a photographic tour through a wide variety of religious buildings in the area, highlighting the treasures within.

Nearly two hundred years ago the Lisle Congregational meeting house inspired those who viewed it with new hope. In much the same way, touring Broome County's religious structures today inspires with new hope, and a new appreciation for the diversity, the historical significance and the preservation of these remarkable Expressions of Faith.