It's A Wonderful Building!
This Christmas, a New Beginning for a Binghamton Landmark


It was Christmas Eve one year ago, and like most business offices, festive decorations were hung on walls and cubicles in the Press Building at 19 Chenango Street. Christmas cards and colorful plates of cookies were arranged on cabinets and conference room tables awaiting the staff's return after the Holiday.

View from inside the Press Building, Christmas Eve, 2010.
Above: After the fire, icicles hang from every ledge of the 12-story structure.

But that's where the similarities end… here offices were cold and dark – a mixture of white smoke and light snow wafted in through broken windows and drifted through offices and hallways. Water-soaked carpeting squished with every step and the floor was littered with large sponge-like clumps of broken ceiling tiles. This traditional Silent Night was interrupted at regular intervals by a piercing alarm and flashing strobe-lights.

Some floors were bitter cold, others were like a sauna. Between floors, sheets of paint peeled from staircase walls. Outside, curtains of icicles hung from every ledge of the 12-story structure.

Just two days earlier the Press Building had a ring-side seat to the most spectacular blaze Binghamton has seen in decades. Throughout the night and following day firefighters fought an intense blaze which ultimately destroyed all but the façade of the adjacent Strong Building, known more recently as Midtown Mall.

It was neither flames nor intense heat, but water that caused severe damage to the Press Building. For hours fire hoses sprayed from all angles sending a continuous flood of water through dozens of broken windows. That, coupled with an efficient sprinkler system ultimately ensured that every square inch on every floor of the building was saturated.

As soon as the fire was extinguished broken windows were boarded up, but the damage was done. Within days, as snow-covered remains of the former Strong Building still smoldered, tenants would be allowed into the Press Building to remove items for relocating their businesses.

"The day after the fire, it was clear to us that we were going to be forced to find temporary new office space," said Mark Gorgos, Managing Partner of Coughlin & Gerhart, LLP, the largest tenant of the building. "Moving 24,000 square feet of office space and 90 employees with no advance notice was an incredible challenge." By early January the operation relocated to a former IBM building in Endicott. "We also opened a smaller office at 105 Court St. (Binghamton) to maintain a downtown presence," said Gorgos.

Local developer and owner of the building Mark Yonaty remembers all too well. "It was a very traumatic experience," he said. "Words can't describe how traumatic it was." Even still, Yonaty expected to have the building back in operation within three months. It was not to be. Twelve months later the cleanup continues.

Floors 2-10 have been gutted.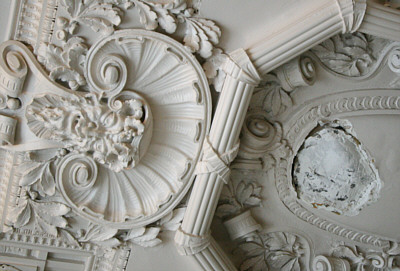 Detail of lobby ceiling showing damaged plaster next to a Green Man,
symbol of renewal and re-birth.


Senator Tom Libous with newsboy at Grand Opening, June 8, 2008.


Floors two through ten, which suffered the most severe damage, have been totally gutted. Suspended ceilings and interior walls are gone. Floors have been removed down to the floor joists. "In some areas there were seven layers of flooring that had been installed over the years," said Yonaty. Lead paint has been removed from walls and safely contained in metal drums for proper disposal.

The first, eleventh and twelfth floors had recently been refurbished and luckily suffered the least damage. Flooring, interior walls and many of the fixtures remain in place and, surprisingly, in good condition.

The ceiling of the first floor lobby is well-known for its exquisite architectural features. In at least two areas, sections of water-soaked plaster broke away and fell to the floor. Yonaty plans to have the lobby ceiling professionally restored soon.

The building was 70% occupied prior to the fire. According to Yonaty the top four floors could again be ready for occupancy in eight weeks, but at this point he needs commitments from potential tenants before continuing the renovation.

"We continue to actively review our space and location needs," said Coughlin & Gerhart's Mark Gorgos. "I fully expect that we will have solidified our permanent main office space by early 2012. Downtown Binghamton and certainly 19 Chenango St. is still very much on our radar, as is our existing location. But we are also reviewing some other very intriguing possibilities."

The Press Building has always been a labor of love for Yonaty, a lifetime resident of Binghamton, and now the sole owner of the building. "I bought out my partner a couple months ago to keep it from going to auction," he said. Former tenant Gorgos agrees. "Mark Yonaty has always put his heart and soul into that building."

On June 8, 2008, vintage cars were parked in front of the building. Young boys wearing newsboy caps stood on soap boxes hawking papers and shouting "Extra, extra!" On the twelfth floor it was standing room only. City, county and state officials, news media and hundreds of visitors were there to celebrate the grand opening of Coughlin & Gerhart's offices in the newly remodeled Press Building.

Dignitaries spoke of the historic significance of the building. They praised the law firm's determination to remain in downtown Binghamton and their commitment to revive and make use of this grand structure. A ribbon was ceremoniously cut. It was a great day for Binghamton.

This Christmas Eve the building is deserted – there are no decorations, no office parties. Prior to the fire it was one of this city's greatest historic preservation success stories. Now, after 108 years it is starting over, like a newly constructed building, ready for occupancy and anxiously waiting to come to life.

Maybe, like the old Building & Loan of the classic movie "It's a Wonderful Life", this holiday season will bring new hope for Binghamton's most prominent landmark. To quote George Bailey as he exclaimed on that infamous Christmas Eve long ago: "Merry Christmas you wonderful old building!" To that we might add: "and best wishes for a prosperous New Year!"