Round Barns of Chenango County
Udder Efficiency in Dairy Farming

J.C.Young's Round Barn, built 1914-1916.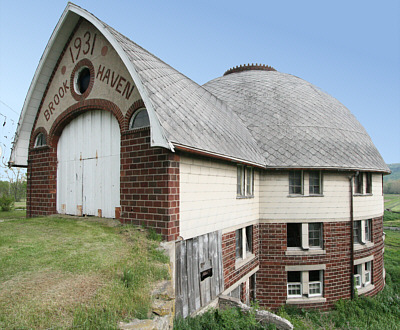 Bates Round Barn - Brook Haven, built 1929-1931.



Cows facing outward with gutter in foreground.



The manger.



The hay loft and silo.


"The round barn, which a half score of years ago was derided and scoffed at, is rapidly gaining in popularity on account of its all-around utility and adaptability to practically every line of farming." Kansas State Board of Agriculture Report, 1912.

James Clifford Young's farm was located about three miles south of Greene, New York. It was 1914 when his dairy barn was stuck by lightning and burned to the ground.

Soon after the fire, construction began on a new barn, one that was radically different from traditional barn design and would reflect a revolutionary concept that was gaining popularity in the mid-west. Young's new "round barn" was the creation of another local farmer, DeVern Bates.

In terms of efficiency, the concept seemed to make perfect sense. A silo formed the center of the round, 80-foot diameter three-story structure. On the ground level, dairy cows were arranged in a circle, all facing toward the silo where food was deposited through trap doors and chutes from an upper floor. A gutter was located just behind the cows and above that, a "litter track" circled the room for efficient cleanup. A walkway around the perimeter provided plenty of room for the farmer to work.

Built on a slope, horse-drawn wagons delivered hay and silage to the second floor. Then, using ropes and pulleys, large tongs grabbed the hay which was then hoisted to the third floor loft. Conveyors and blowers were used to fill the central silo.

By all appearances a round barn seemed to be the wave of the future - it was efficient to operate, and considering the basic wedge-shape of a cow (narrow in front, wide at the rear,) use of floor space was maximized by arranging the animals in a circle facing inward. There was another advantage - for the same square footage, a round barn was cheaper to build than a rectangular barn.

Bates was apparently so convinced of the advantages of a round barn that twelve years later he started construction of another one, this time on his farm, less than a mile up the road. Called "Brook Haven," with this barn Bates made a few modifications to the basic design. For one, he added an entire level. The second floor of Bates' new four-story barn was set up for raising calves, and later housed 1,000 chickens.

Bates' other deviation from the basic concept was in the way he arranged the dairy cows. Bates still had them standing in a circle, but in apparent contradiction to the basic round barn design premise, his cows would face OUTWARD. This configuration provided better ventilation for the herd and according to Bates, even greater efficiency. As he reportedly explained at the time, there's more work to do at the back end of a cow than at the front end.

Both farms were successful dairy operations for several decades. Today, although no longer operating as dairy farms, the round barns remain in their respective families. Chuck Young maintains the barn and lives on the homestead of his grandfather, "JC" Young. Just up the road Chris Depue owns and manages the barn designed, built and originally operated by his great-grandfather DeVern Bates. Although milking operations stopped in 2003, cows are still housed in the Bates barn, where Depue farms the land and raises heifers.

The barns have been well maintained and continue to be structurally sound. Besides the obvious shape of the buildings, each has a strikingly unique appearance. The Young barn is faced with pressed iron sheathing, while the Bates barn has an impressive stucco, brick and glazed tile arched entrance. The craftsmanship and attention to detail is evident in both structures.

Twenty-five years ago both barns were listed on the National Register of Historic Places, and thanks to a grant recently awarded through the State Historic Preservation Office, Depue said the roof on the Bates barn will be replaced this year.

In the early 1900's, round barns experienced short-lived popularity in some mid-western states. With all the apparent advantages a round barn has to offer, one wonders why the concept didn't catch on, and why these two barns are no longer used as intended. As Chuck Young says, "dairy farm technology advanced in support of straight lines and right angles." Standard tools of the trade worked fine in conventional barns, but had to be painstakingly adapted to work in a circular environment. Expansion was the other problem, said Young. As many small dairy farms were forced to increase in size over the years, round barns could not be modified to handle more cows. Besides that, the stalls are too small. "Cows are bigger than they used to be" said Depue.

There are many reasons to enjoy a drive up route 12 north of Binghamton. Rolling hills, rich farmland and the picturesque Chenango River combine to make this one of the most pleasant drives in the area. Four miles past the county line two magnificent round barns stand by the road as landmarks.

Very few round barns still exist, and Chenango County is indeed fortunate to have two of the finest surviving examples. These rare architectural treasures provide a glimpse into farming technology of the early 20th century, and stand today as testament to the adventurous spirit of two families who for over a century have lived and farmed in this area.