WILLARD
the Buildings they Left Behind
For a column that covers buildings of historic interest in the Southern Tier, Willard State Hospital is a stretch. Ok, more than a stretch… not in the Tier at all, Willard is on the eastern shore of Seneca Lake, about 25 miles from Ithaca.
But an article on Willard seems appropriate for a couple reasons… for one, there are some parallels to our Binghamton asylum. Both facilities were constructed in the 1860's. Similar in purpose, construction and operation, over the years they would respond identically to changing societal attitudes toward mental health. They would grow fast to keep pace with increasing demand, reach their peak in the late 1950's, then experience a steady decline in population. Twenty years ago many of their buildings were closed and abandoned.
Over recent years several of Willard's buildings have been rehabilitated and reused. Today the campus is operated by the New York State Department of Corrections as a drug treatment center, correctional facility, and training academy. Unfortunately, like the Binghamton campus, many of the original buildings have been demolished. The few that remain vacant are deteriorating; some are unsalvageable.
There are other local connections…after Binghamton's short-lived New York State Inebriate Asylum was converted to an "asylum for the chronic insane", many patients were transferred from Willard to the Binghamton facility.
One of those was Lucy. In today's terms, Lucy would be described as a transgender individual. But in 1879, because she chose to dress and behave as a man, Lucy was committed to the Willard asylum for the insane. Shortly after that she was transferred to the asylum at Binghamton where she remained for over 30 years until her death. Lucy was buried here in the asylum cemetery, and as is the case with most graves at both the Binghamton and Willard cemeteries, her nameless, numbered grave marker has long since been lost.
I recently had an opportunity to tour and photograph the remaining buildings on the Willard campus and meet with former employees of the facility. Clearly, for over one hundred years life in the small hamlet of Ovid centered around the state hospital. As in Binghamton, the campus was a self-sufficient community. Would-be husbands and wives met as employees, nearly everyone in the area worked at the facility and for many families employment at the state hospital would span several generations. There was a family atmosphere throughout the facility, and today the community holds many fond memories of "the good old days" at Willard.
As in Binghamton, former employees of Willard state hospital hold high regard for the institution and its patients… and it is the former patients that provide one more reason to highlight this facility. Willard is in the news right now... the national news. Over recent weeks articles on Willard have appeared in USA Today, the New York Times, and last week it was featured in Newsweek magazine.
The news centers around a new book about Willard released just this week entitled "The Lives they Left Behind: Suitcases from a State Hospital Attic."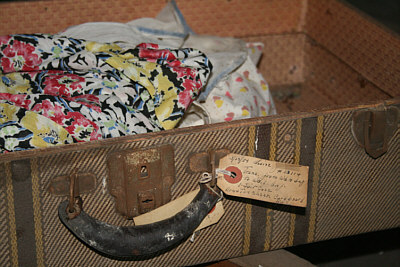 It was 1995, while making arrangements to shut down the facility, that hundreds of suitcases were discovered in the attic of one of the old buildings. The suitcases, containing clothing and other personal items, were taken from patients as they entered the hospital and put into storage… long since forgotten, they would collect dust until being discovered nearly fifty years later.
Following their discovery, the suitcases were moved to the New York State Museum where curator Craig Williams and Darby Penney, then Director of Recipient Affairs of the Office of Mental Health, came up with a plan. Penney invited her colleague, psychiatrist Peter Stastny, to join them. "We conducted a study to research the lives of the suitcase owners and to present their life stories, both before and after institutionalization," said Penney.
No longer with the Office of Mental Health, Penney went on to say "This collaboration resulted in a major exhibit at the New York State Museum in 2004… a website (www.SuitcaseExhibit.org), a traveling exhibit, and ultimately, in a book." Published by Bellevue Literary Press, the book was co-authored by Penney and Stastny. "Both Barnes & Noble and Borders are carrying the book, and it's available (on-line) at Amazon.com," Penney said.
My recent opportunity to photograph Willard was an interesting and unforgettable experience. Worn steps lead to doors where Lucy and thousands of others once entered. Large windows are faced with iron grates… designed to allow plenty of light in, and nothing out. Wards that for over a hundred years bustled with activity, are silent. After decades of neglect, floors have collapsed, walls have crumbled, tin ceilings have fallen. Curled leaves of paint hang from the walls and litter the floor… and under thick layers of dust, wheelchairs sit idle in the wards, furniture and fixtures are still in place, surgical and refrigeration equipment stand ready in the morgue. It's as if everyone left, expecting to come back the next day. But no one did.
Most surprising of all was the find in the old laboratory... climbing up into the pitch black attic my flashlight caught something in the distance. It was a small black suitcase. On the handle was a hand-written tag with the name "Elizabeth", her date of admission and patient number -inside, a faded wool coat. Looking around the attic there were more suitcases, many more - each with a tag on the handle, a name, date, and small remnants of a life left behind.
---
A photo exhibit entitled "WILLARD - Behind the Walls of the Asylum for the Insane", is on display during First Friday Art Walk, January 4, from 6:00 to 9:00 PM, and Saturday, 1:00 to 5:00, in the Perry Building, 89 Court Street, Binghamton. For more information on Willard and the exhibit, visit http://nysAsylum.com .

Update on the Castle at Greater Binghamton Health Center
SUNY Upstate Medical University continues to move forward with plans to rehabilitate and use the Castle. This week the university's Director of Public and Media Relations, Darryl Geddes, commented that the architectural report on the project is being reviewed. "We have begun to reach out to historic preservation groups to get their input on the project and plan to have them as part of our advisory board, which we are currently in the process of creating", Geddes said.